Arizona General Stream Adjudication Bulletin
---
The Bulletin relies on links so the entire document is available to our readers. The Active Cases page provides copies of orders issued in the cases currently in process.
Adjudication activity during the fall of 2020 occurred primarily with respect to water rights claimed in the Little Colorado River Watershed. The watershed consists of five geographical areas: the Lower Little Colorado subwatershed, the Hopi Reservation, the Navajo Reservation, the Silver Spring subwatershed, and the Upper Little Colorado River subwatershed. See figure below.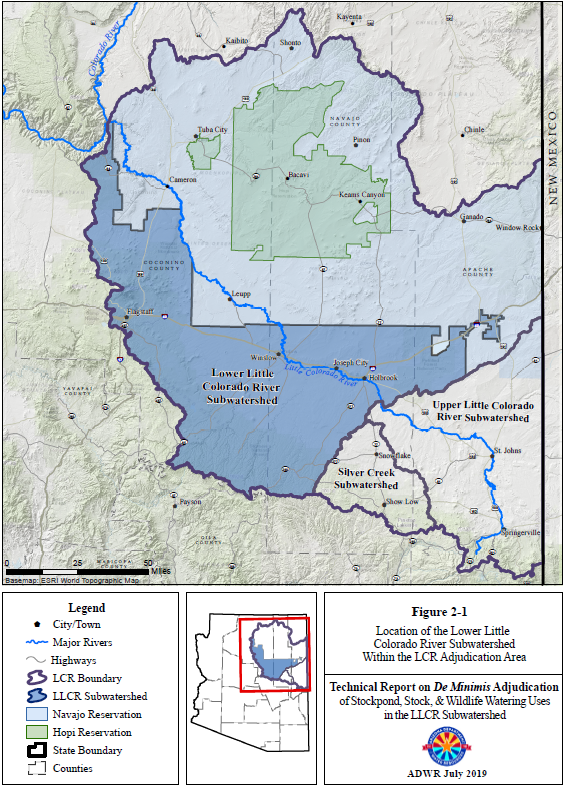 Little Colorado Adjudication
Lower Little Colorado Watershed
The Lower Little Colorado River ("LLCR") subwatershed supports more than 3,300 stockponds and stock and wildlife watering uses that depend on surface water. Most of the stockponds store no more than four acre-feet of water. In this subwatershed, as in other subwatersheds, the question has arisen as to whether the costs to the parties and to the court to complete thousands of adjudications of water rights for these uses can be justified by the resulting benefits. In a final Report issued on October 30, 2020, the Special Master recommended the adoption of summary procedures to expedite the determination of rights for stock and wildlife watering uses in all but the largest stockpond uses. Objections to the Report must be filed by April 28, 2021.
Arizona Department of Water Resources is in the process of preparing a Hydrographic Survey Report of all uses in the Lower Little Colorado Watershed that will be filed on March 31, 2022 for public comment.
Reservations
Claims for water rights for the Hopi Reservation and the Navajo Reservation are in active litigation. The trial on the third phase of the claims for water rights asserted by the United States and the Hopi Tribe for the Hopi Reservation began on September 14, 2020, and is expected to conclude in February 2021. Due to COVID-19, the litigation schedule to determine the United States' and the Navajo Nation's claims for federal reserved water rights for the Navajo Nation was amended. The trial on the first of three phases is now scheduled to begin November 7, 2022.
Calendar
Link here to the calendar of proceedings.
Site Requirements
This site requires a PDF reader (such as Adobe Reader or another PDF reader) to view and print the prepared documents.
---

return to top