You are here:
Real Estate Roster Locations Map
The Family Court Department maintains a roster of real estate professionals who may be appointed by the Court to enforce the sale of real property ordered by the court.
For a list of real estate professionals in your area click on that area in the map below or for a full listing click here.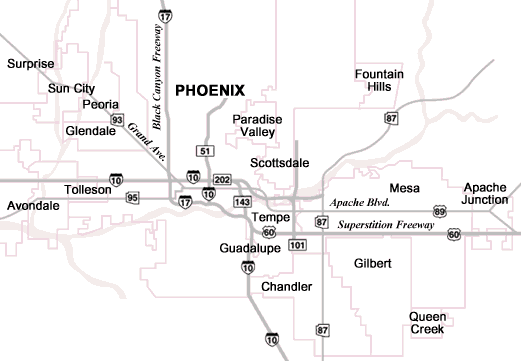 What is a Real Estate Special Commissioner?
Licensed real estate agents and/or brokers who are appointed by the court to initiate and complete the sale of real property as ordered by the court.
Most will be appointed in Family Court cases, but there may be instances where there is a need in other court departments as well.
Applicable Legal Authority
Rule 95G of the Arizona Rules of Family Law Procedure, implemented January 1, 2006, allows for the appointment of a Real Estate Special Commissioner to assist the parties with disposition of community real property when the parties are otherwise unable to agree on such issues.
Basic Requirements
An applicant must be licensed in AZ in good standing for 3 years preceding the date of the application pursuant to Title 32 of the Arizona Revised Statutes, Section 2123.
Successful completion of the mandatory online orientation as well as periodic education sessions as the Court may direct.
Have a minimum of five transactions each year and provide the property addresses.
Agree to periodic evaluation by the Court. The evaluation shall consider the willingness of the applicant to accept appointments and his/her efficiency in complying with court orders, and any other factors deemed appropriate by the Court.
Acquire Errors and Omissions insurance to cover any transaction which is the subject of the court appointment.
Selection and Appointment
Stipulation by parties - parties or their attorneys may select from the Court roster a provider who is authorized to provide the service ordered by the Court.
Selection by judicial officer-if the parties are unable to stipulate, the judge may appoint a provider. Each party may anonymously submit 2 names from the roster and the judge may select one of the names without the knowledge as to which party submitted the name.
Compensation
Upon the close of escrow, the Special Commissioner and the selling broker shall be paid a commission consistent with the reasonable and customary fees paid to realtors in similar transactions in Maricopa County.
The Court may also impose sanctions for a party's unreasonable behavior, including but not limited to, adding an additional 1% of the selling price as compensation for services rendered as a Special Commissioner, over and above the reasonable and customary fees paid above.